The Board of Directors of a global non-profit and humanitarian organization, Seed & Feed Canada appreciated Ms. Farzana Raja and she was awarded, in recognition of her passion for women empowerment, eradication of poverty and humanitarian work along with her trademark transparent approach. Nonetheless, the international donors and dignitaries participated wholeheartedly and appreciated the spirit. The donors urged Farzana Raja to expand the replication of her welfare program internationally to twenty other countries facing immense poverty, as already committed.
Farzana Raja was praised for her humanitarian contributions and given an award by Kathleen Mahoney and Phil Fontaine, the two senior Directors of SFC. Raja, in turn dedicated the award to the slain children in Peshawar school bomb blast and reiterated her resolve that only poverty eradication can bring about the massive change which is required to eliminate terror in the world.
Josh Literary Society of Canada is a well-known and reputable organization which has made a significant contribution towards promotion of Higher Education and rational thinking in the last thirty years.
JLSC lauded MS Raja for her remarkable achievements, conviction and focus. She was given the first Josh Humanitarian Award by Iqbal Haider, founding chairman of the society. Farzana Raja once again dedicated her Humanitarian Award to all martyrs of terrorism in the world.
Poverty Alleviation Through Women's Empowerment - Dream to Reality
by Farzana Raja
The most powerful tools to build strong self-image and self-confidence of the youth of the globe are social inclusion and cohesion. They must be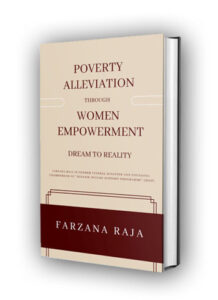 equipped with entrepreneurial, creative and collaborative social skills which are the base of modern education. The social sector is a major part of the national security policy of any country, which includes access to health care, food security, and most importantly, education. However, unfortunately, in underdeveloped countries or developing countries, this sector is very much neglected.
A woman has the potential to lead her family towards the right path when provided an opportunity to prove herself. They can influence families and communities. Empowered women have a voice in decision making at every level, starting from sending children to school, especially girls. Female education is a pathway to transforming societies into civilizations.
Globally, places with low education and high poverty have huge crime rates. Eradicating poverty, using education and women empowerment is the future of the nations.